Cole Sonafrank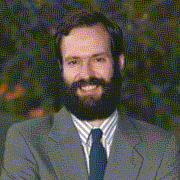 Politically Speaking: A Brief Autobiography
I was a Fairbanks North Star Borough Assembly Member from 1996 through 1999. Advocating respect, tolerance & community involvement; sustainable economic development; the public value of politics, science & art; & much more!
I've served as Chair of the Assembly's Finance Committee which reviews all aspects of Borough finances and has significant responsibility in crafting the overall budget.
I was born in 1959 and have lived in Alaska (Fairbanks & Ester) since 1976.
I'm happily married to Nancy Sonafrank, as I have been since 1979.
Our daughter Colette graduated from West Valley High School and went on to Oberlin College.
Our son Eli attends West Valley.
Professionally, I am the Supervisor of the Computer Resource Center at UAF's Geophysical Institute where I've worked since 1979. My first 15-1/2 years there were in the Seismology & Volcanology laboratories.
I served for 6 years on the Borough Planning Commission, of which I was Chair when elected to the Assembly in 1996.
I earned my Bachelor's degree in Economics from UAF in 1986.
I served for 8 years on the Ester Volunteer Fire Department's Board of Directors. I served as its President, Treasurer, and Secretary.
I served as the Alaska state delegate to the League of Women Voters 1996 national convention. I've been an active LWV member since 1993.
I've been a member of the Greater Fairbanks Chamber of Commerce since 1993 and understand that environmentally sustainable economic growth is vital to our community.

Return to my Politically Speaking page

Artwork is one of my primary avocations.
Here's a small sample (mostly of stained glass).


Professionally, I supervise the
Geophysical Institute's
Computer Resource Center

Current FNSB Assembly Information

Don't follow this link. It executes a program to help foil unwanted automatic email address collection robots. Here's how to get the program for your Web server.